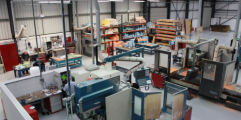 UK company Formaplex specialises in injection-mould tooling, composite tooling and the manufacture of plastic components.The pattern manufacturing part of Formaplex has been relocated into the new factory in Hornbeam from Havant.

In addition, a further £750 000 has invested in the pattern manufacturing business, with the order of two large CMS Aries 4826 5-axis-machines.

The new facility also boasts a separate inspection room and the whole facility benefits from high capacity dust extraction.

To capitalise on this expansion and investment, additional staffing has been hired both in the office and in manufacturing, and also in the design team to boost its capacity in pattern and tooling design.
Formaplex provides specialist manufacturing services to many of the UK's leading automotive, autosport and industrial companies and our recent investments support our strategy to service these demanding customers by combining leading edge technology, modern facilities with the very best people.
Michael Last, Managing Director, Formaplex

This is the latest development at Formaplex. In the past 12 months the company has doubled its manufacturing floor space to 85 000 ft2, invested an additional £1 750 000 in three other five axis machining centres and two large injection moulding machines of 650 tonnes and 1500 tonnes clamp force and has created 40 new jobs.

Formaplex was established 11 years ago to provide rapid manufacture of composite tooling and pattern work to support Formula 1 and other motorsport series. The company now has a much wider service offering with composite tooling solutions, injection-mould tooling, and more recently the manufacture of plastic components and large component machining for military vehicles, including the MOD's Foxhound.
Source By : http://www.reinforcedplastics.com/view/25597/formaplex-expands/